Teaming Up With The Best Driving School in CA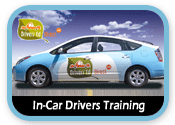 DriversEd-CA.com has paired up with Drivers Ed Direct, the leading driving school in Los Angeles and Ventura county, to help you fulfill your California In Car Driver Training requirement! Each behind the wheel driving lesson is instructed by a personable and DMV licensed driving instructor who can prepare your son or daughter for residential driving, city street driving, freeway driving, and canyon driving. Both basic and advanced packages are available for both teens and adults 15 years old and above in Los Angeles County and Ventura County. Behind the wheel training lessons are only available in select areas at this time, including the San Fernando Valley, Conejo Valley, Malibu, West LA, Santa Monica, Valencia, Santa Clarita, and Los Angeles (west of Hollywood).

In Car Driving Lessons for California
Looking for a driving school in CA that offers driving lessons in your zip code? Check out DriversEd-CA.com's ever expanding list of serviced zip codes.


| | | |
| --- | --- | --- |
| 91311 | 93063 | 90035 |
| 91324 | 91501 | 90036 |
| 91325 | 91502 | 90038 |
| 91326 | 91504 | 90046 |
| 91330 | 91505 | 90048 |
| 91343 | 91506 | 90049 |
| 91344 | 91601 | 90064 |
| 91040 | 91602 | 90067 |
| 91331 | 91604 | 90069 |
| 91340 | 91605 | 90077 |
| 91342 | 91606 | 90095 |
| 91345 | 91607 | 90290 |
| 91352 | 91042 | 90210 |
| 91402 | 90068 | 90211 |
| 91042 | 91521 | 90212 |
| 90290 | 91522 | 90213 |
| 91301 | 91523 | 90272 |
| 91302 | 91608 | 90401 |
| 91303 | 91321 | 90402 |
| 91304 | 91350 | 90403 |
| 91306 | 91351 | 90404 |
| 91307 | 91354 | 90405 |
| 91316 | 91355 | 90406 |
| 91335 | 91381 | 90407 |
| 91356 | 91382 | 90408 |
| 91364 | 91384 | 90409 |
| 91367 | 91387 | 90410 |
| 91436 | 90004 | 90411 |
| 91406 | 90005 | 91360 |
| 91401 | 90020 | 91361 |
| 91403 | 90024 | 91362 |
| 91405 | 90025 | 91377 |
| 91411 | 90028 | 93021 |
| 91423 | 90034 | |